Lavender
Lavender Harvester
The machine is used to cut lavender crops by a header, side-mounted onto the tractor, and a conveyor belt from the header to the coupled trailer.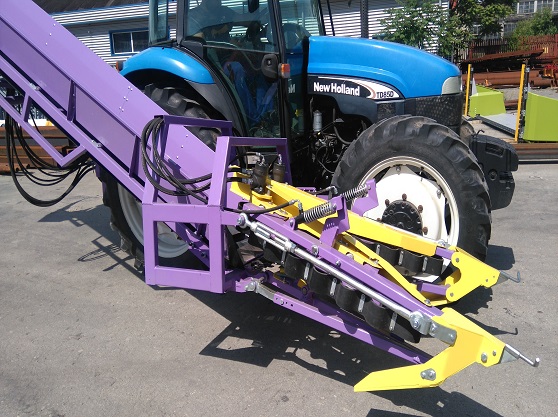 Technical features:
Mounted. Comprising of two headers (alveoli) with an independent hydraulic station, a dashboard and a conveyor belt.
Hydraulic, 12 V electric joystick steering, manual control, directly to the hydraulic distributor.
The frame is made of tubular steel profiles.
The working units are: lifters for the plants, finger chains with belts, cutting knife, conveyor belt (infinity), cross-section profiles, and a pusher from the non-working part of the conveyor belt.
Working features and operating parameters:
Plant rows spacing from 300 to 500 mm.
Plant rows spacing– 1400 mm.
Minimal height of cut, measured from the ground– 100 mm.
Maximal height of cut, measured from the ground– 550 mm.
Maximal header opening – 800 mm.
Slanting angle of the header shoulders - from 0 to 35 degrees
Technical data:
Maximal opening of the alveoli – 800 mm
Minimal opening of the alveoli – 300 mm
Conveyor let length – 5.20 m
Length of the frame with the header – 2 m
Working speedup to – 6 kmph
Productivity – 0.3 hectares per hour
Weight – 995 kg
Required tractor power – from 60 hp
Send enquiry